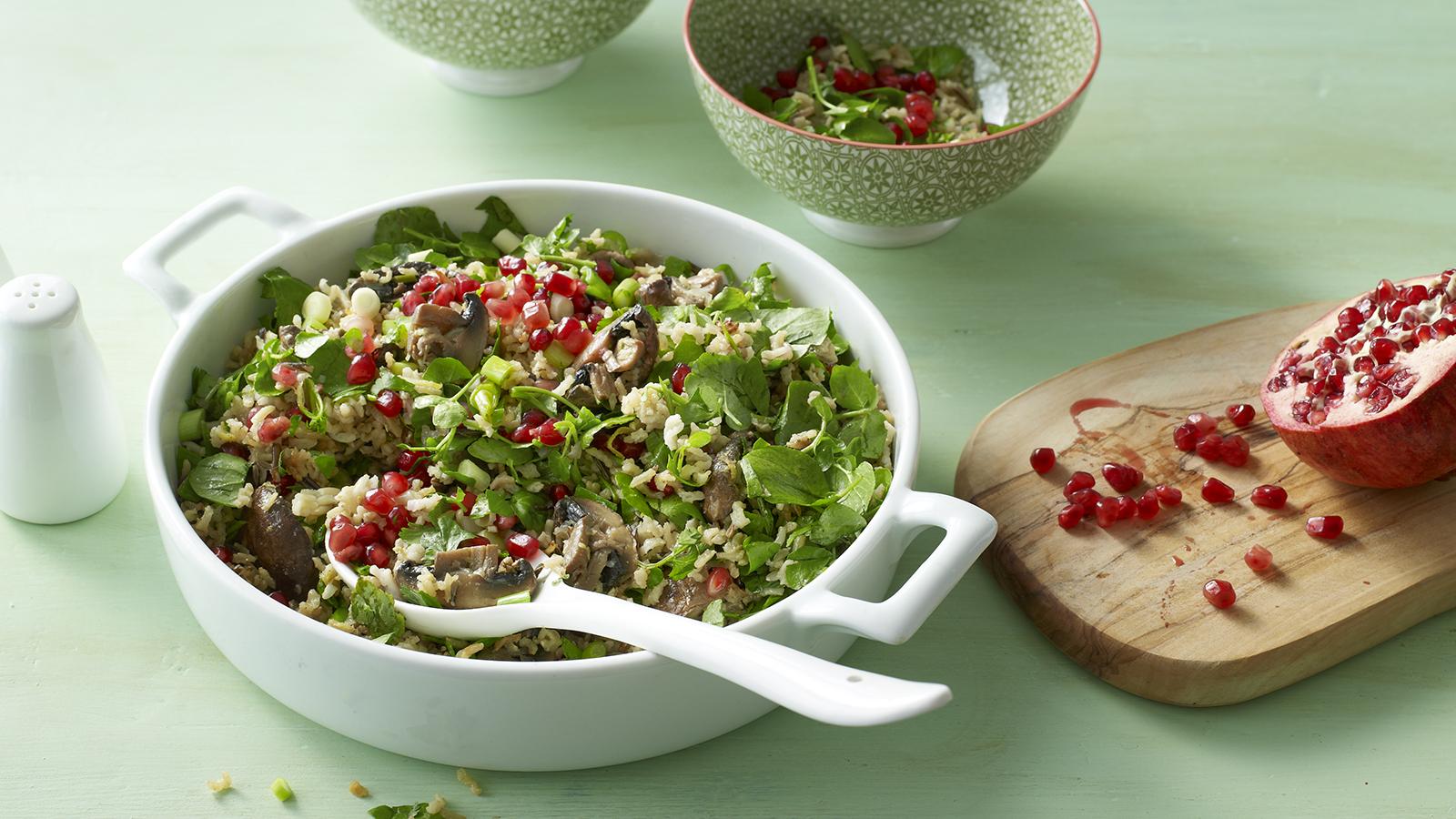 I'm beginning to think my middle is name is Noah with all the rain we have been having! I can't remember the last time the field opposite us wasn't like a lake, although it has gone down a bit now and looks like a paddy field as the cows have been allowed back in to graze on what they can find. Today has dawned with some frost so at least we have some sunshine and things looking a little brighter!
I have been thinking that the last few posts have all been about comfort food so we can put up with the awful weather. However, if we carry on with these we'll all be the size of a house by Christmas – so this week is about winter salads – but with a hint of warmth to keep out the chill. You can eat them on their own – but they will easily sit happily alongside lamb or pork chops or baked fish.
Mushroom and Wild Rice Salad
125g chestnut mushrooms, halved
1/2 onion, finely chopped
1 garli clove, crushed
1/2 unwaxed lemon, finely grated zest only
75g mix of brown basmati and wild rice, rinsed
200ml hot vegetable stock
1/2 pomegranate, seeds only (you can buy the seeds in little pods if you don't want to buy the whole fruit)
2-3 spring onions, finely chopped
50g watercress, roughly chopped
1 tbsp extra virgin olive oil
fresh coriander, roughly chopped                )
1 tbsp lemon juice                                            ) dressing
sea salt and freshly ground black pepper   )
Preheat the oven to 200C/180C Fan/Gas 6. Place the mushrooms, onion, garlic, lemon zest, rice and vegetable stock in a casserole dish or small, deep roasting tin. Cover tightly with kitchen foil or a lid and cook for 1 hour. Meanwhile, to make the lemon and coriander dressing, mix all the ingredients together in a small bowl. Set aside.
Stir the dressing, half the pomegranate seeds, half the spring onions and the watercress into the rice. Taste and adjust the seasoning, if needed. Garnish with the remaining pomegranate seeds and spring onions. Serve immediately.
Thai Vegetable Salad with Crispy Noodles (Optional)
1 carrot, peeled and pared into ribbons
1/2 red onion, peeled and thinly sliced
1/2 small cucumber, thinly sliced
1 tomato, chopped
1 little gem lettuce
handful of bean sprouts
small can of water chestnuts, drained and halved
1 red chilli
1 garlic clove
1 tablespoon sesame oil                                        )
2 dessertspoons vegetable/sunflower oil
1/2 teaspoon grated ginger                                   ) dressing
1/2 teaspoon castor sugar
1 dessertspoon sherry vinegar                            )
2 dessertspoon light soy sauce
2 tablespoons water
Deseed and finely chop chilli; peel and slice garlic. Heat the oil and fry the chilli, garlic and ginger for 30 seconds.  Add the sugar, vinegar, soy sauce and water and simmer for 1 minute.  Remove from heat and cool. Put all the salad ingredients in a large bowl. Add the dressing and toss well. Serve at once with a scattering of sesame seeds and top with Crispy Noodles (soak half a sheet of dried Chinese egg thread noodles, drain and dry thoroughly. Heat some oil in a deep pan and deep fry the noodles for 1 -2 minutes until crisp and golden) , if using.