I don't know about you but I am so fed up with these grey, wet days.  Our back garden is so constantly flooded that I think my hens may have to take lessons from the visiting ducks!  Anyway, it got me thinking of the summer to come (hopefully) which led me on to the sun and its colour – to lemons!  Little balls of yellow sunshine in themselves.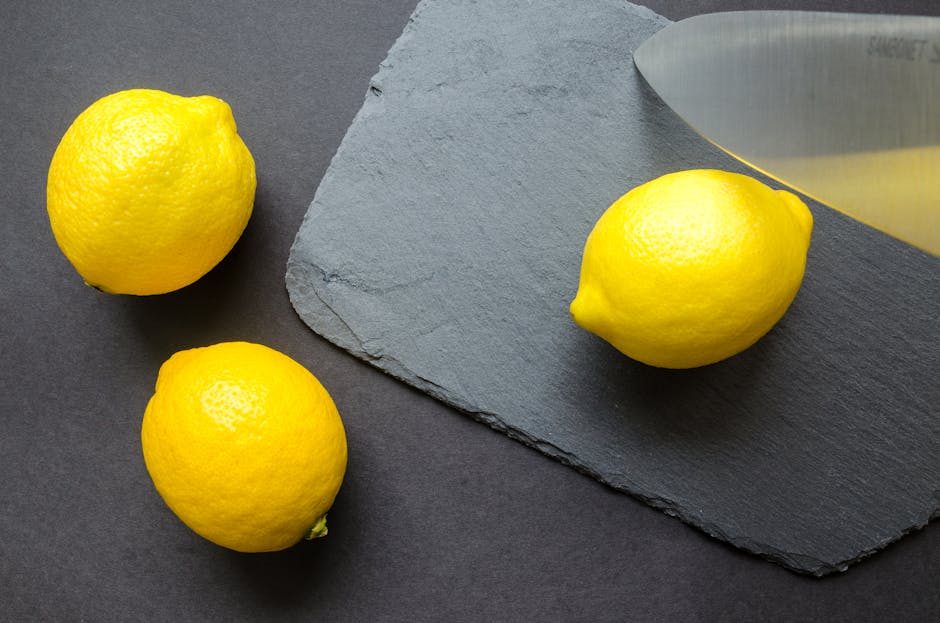 Lemon juice is full of vitamin C and can be added to almost anything for a quick zing.  I always start my day with hot water and a lemon slice and could end it having used them in cooking, washing my hair or taken the cut half with salt to clean copper pans!
Look for a smooth, thin skin when shopping – all the supermarkets this morning are selling them for about 30p each.
Sticky chicken thighs in Lemon and Honey
1 dessertspoon black peppercorns, crushed
1 lemon, juice only
1 tablespoon of runny honey
dollop grainy mustard
2 garlic cloves, crushed
2 – 3 chicken thighs, bone in and skin on
sea salt, to taste
1 – 2 preserved lemons (buy them in a jar from most supermarkets) 
handful green olives, pits removed, sliced
small handful fresh flat leaf parsley
Preheat the oven at 200C/400F/Gas 6.  Put the crushed peppercorns into a large bowl together with the lemon juice, honey, mustard and garlic and mix well. Place the chicken thighs into a large roasting tin and pour the lemon and honey mixture over the chicken, leaving it to marinate for as long as possible. Sprinkle with sea salt, to taste, then cook in the hot oven for 45 minutes, turning halfway through cooking so that the thighs become lovely and sticky.  Meanwhile, cut the preserved lemons open and remove the soft flesh to leave you with just the skin (discard the flesh). Cut the skin into strips and toss together with the olives and parsley. When the chicken is ready, serve sprinkled with the olive, parsley and preserved lemon mixture. A crisp salad is a nice contrast with some sourdough bread to toast and mop up the lovely juices.
Peach, lemon and mascarpone trifle
2 lemons
400g/14oz caster sugar (yes, I know this seems a lot of sugar but there will be some sugar syrup left over – keep in the fridge or even in plastic container in the fridge)
200ml/7fl oz hot water, from a kettle
4 sponge fingers, broken into pieces
100g/3½oz mascarpone *
1 additional lemon, zest and juice
75ml/2½fl oz double cream
1 tbsp icing sugar, sifted
1 peach, peeled and sliced
Cut one of the lemons into quarters and juice the other one. Place the quartered lemon and the lemon juice, sugar and hot water into a saucepan and bring to the boil. Boil until the mixture is thick and syrupy then remove from the heat and allow to cool. Dip the sponge fingers into the sugar syrup and place in the base of a glass serving dish. Mix the mascarpone, lemon zest and a squeeze of lemon juice from the additional lemon, double cream and icing sugar together. Place a third of the peach slices on top of the sponge finger base and then top with half the cream mix. Place another third of the peach slices on top of the cream and cover with the rest of the cream mix. Decorate with the rest of the peaches.
*mascarpone is a soft Italian cheese that you buy in tubs (the cheapest I have found is in Aldi for 75p).  You can swirl it into pasta, makes great cheesecakes and a main ingredient in tiramisu.  It also makes a great quick dip if you put a dollop of it (possibly the bit left over from above) into a bowl and pour over spicy sweet chilli sauce – serve with sliced pitta bread or crudites to scoop out.