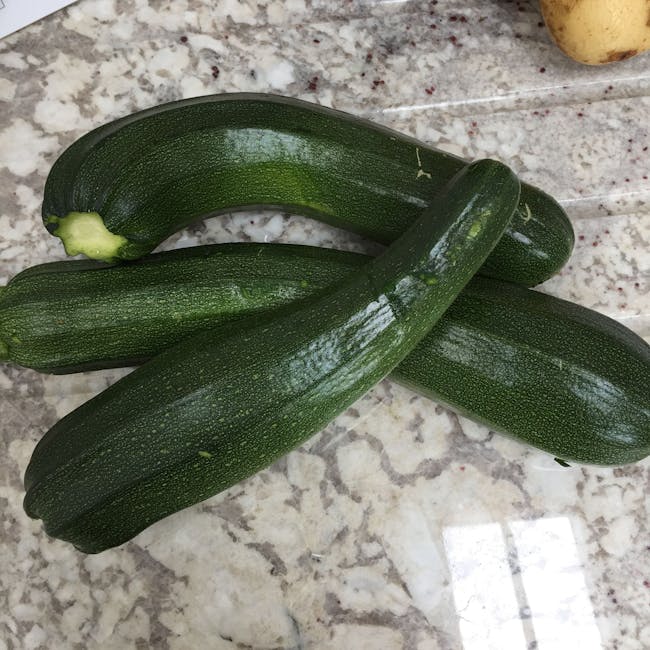 Courgettes may be one of those vegetables you either love or hate – and hating them may be because they are considered bland and tasteless! However, they are a good source of Vitamin C and potassium – and virtually calorieless!  It all depends on what you put with them and how you cook them so 2 recipes to make you look at them again!
This week, all the supermarkets are selling them for about £1.30 for 3 – with Sainsbury's the winner at 3 for a £1.00 – or you can, of course, just buy them individually!
Spiced Courgette and Carrot fritters
1 large courgette, coarsely grated
1 large carrot. coarsely grated
fresh coriander, leaves and stalks, chopped
1 teaspoon curry powder
3 dessertspoons plain flour
1/2 teaspoon baking powder
1/2 an egg (yes, I know that's seems difficult but beat a whole egg and just use enough to mix – and use the rest in the following recipe or keep covered in the fridge to add to scrambled eggs!)
Put the grated courgette and carrot into a colander with a little salt and leave to drain for about 15 minutes.  Tip on to a dry tea towel, wrap and wring out all the water.  Put into a large bowl and add the dry ingredients, mix well and add enough egg to mix.  Put a little oil in a frying pan and using floured hands, shape into about 6 patties and fry until crisp and browned on both sides.  Use on their own as a side vegetable or to scoop into a dip of your choice.
Courgette Frittata
1 tablespoon olive oil
75 grams (or so!)sliced mushrooms
1/2 small onion
100g courgettes, thinly sliced
100g fresh spinach
2 eggs
grated parmesan to taste
some torn basil leaves
50 grams mozzarella
Heat the oil in a frying pan.  Add mushrooms, onion and courgettes and cook for about 5 minutes until tender.  Add spinach and cook till wilted.  Lightly beat the eggs and the parmesan and basil and season.  Pour into the pan and stir to distribute evenly.  Tear the mozzarella into pieces and put on top.  Cook over a low heat until the base is set but still a film of liquid on the top. Heat the grill and put frittata under it until the top is golden and the egg is set.  Add extra parmesan (if liked) and serve!