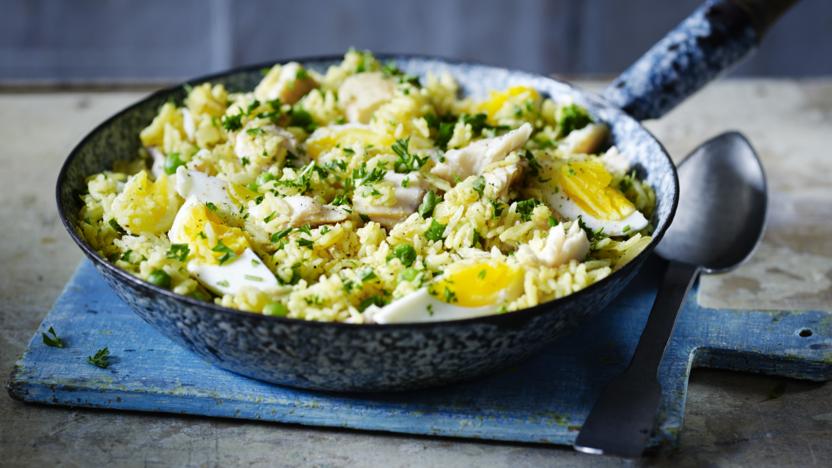 Once again, as I write this, the rain pours down and another grey day.  Thankfully, yesterday was lovely and I got a lot of gardening done, having recently dug out a bed full of nettles and weeds and found a whole piece of new garden to plant up.  The new hens have bonded in beautifully with the old and have soon learnt that when they see me with a spade, worms and grubs will follow.  They actually try to stand on the spade as I dig, toppling over in their eagerness to see what is underneath!  I really love my "girls" and thank them all the time for their great, completely free range, eggs.
So in the light of them – and the need for comfort food yet again – something to warm me up and give a little sunshine on a plate, this week's recipe is kedgeree – 2 versions so no one misses out. And with a touch of curry to the dishes, even The Husband has no cause for complaint!
Smoked fish Kedgeree
100g undyed smoked haddock fillet (you can also do this with smoked mackerel fillets (in which case no need to cook!)
a little milk
1 bay leaf
50g basmati rice, cooked
1 free-range egg, hard boiled
25g frozen peas (optional) cooked
20g butter
1 dessertspoon rapeseed oil
1/2 – 1 small onion, finely chopped
1 dessertspoon medium curry powder
a couple of chopped tomatoes (optional, but gives some colour)
1 tablespoon double cream
1 tablespoon chopped fresh parsley or coriander (you could go mad and add both if you have them!)
½ lemon, juiced
freshly ground black pepper
Place the haddock in glass dish. Pour over a little milk, add the bay leaf and cook in a microwave  for about 5 minutes until it is just done and flakes easily. Drain in a colander and discard the bay leaf. Melt the butter with the oil in a large pan and cook the onion (and tomatoes, if using) over a low heat for five minutes until well softened, stirring occasionally. Add the curry powder and cook for another 3 minutes, stirring constantly. Add the cooked rice into the pan with the peas, cream, parsley and a few twists of ground black pepper. Flake the fish into chunky pieces and add these to the pan. Gently stir the lemon juice and cook for 1-2 minutes. Cut the eggs into quarters and place them on the rice. Cover the pan with a lid and heat through for 2-3 minutes or until the eggs are warm, then serve.
And so the vegetarians don't miss out :
Vegetarian Kedgeree
As above, omitting the fish but add:
80g vegetarian black pudding
50g cooked puy lentils
chopped coriander
1 heaped teaspoon dessicated coconut
pinch of nutmeg on top to serve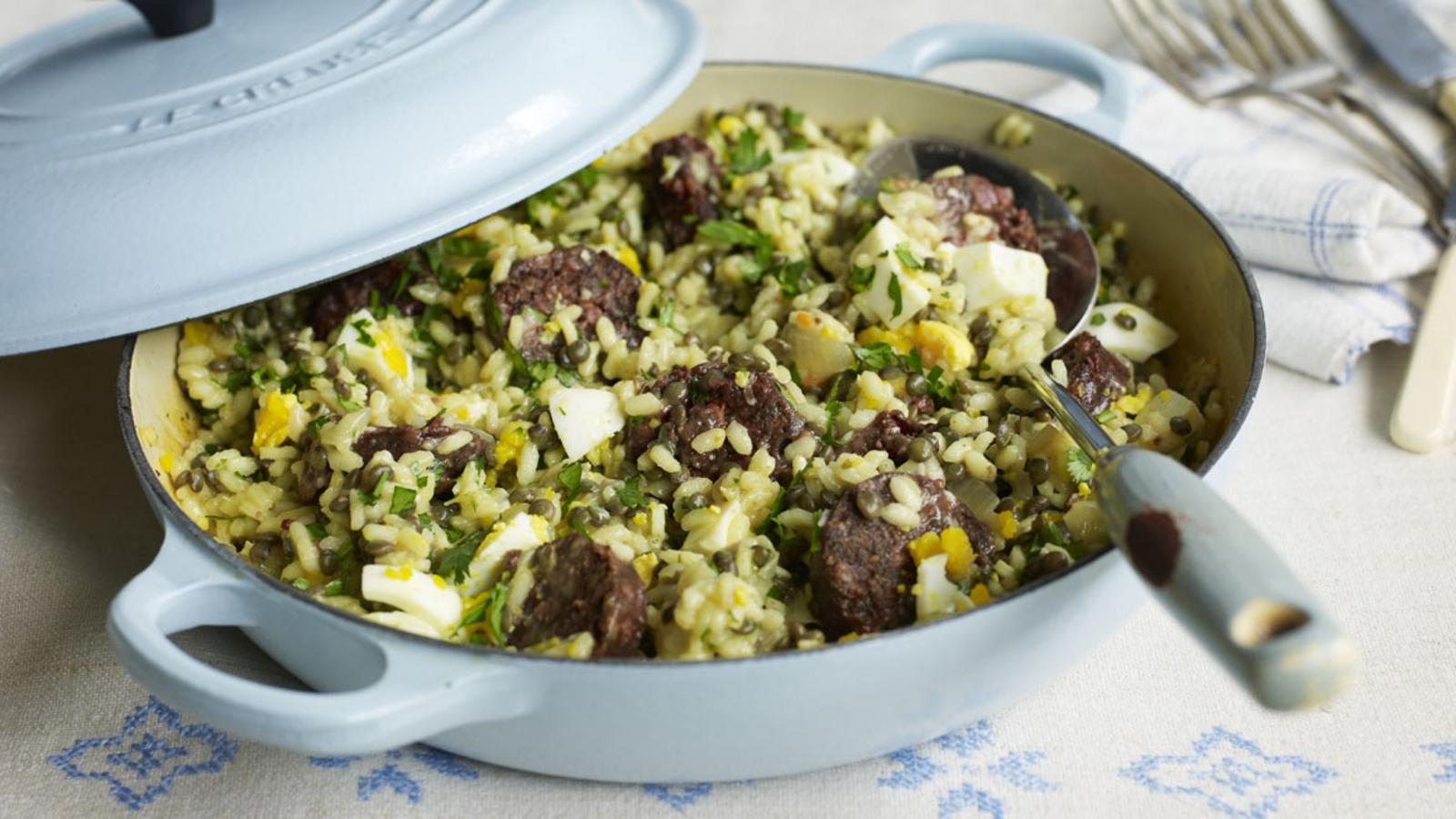 PS I am off the Scotland tomorrow for the weekend to spend some time with my Scottish family hence an early blog.  With the weather the way it is, though, perhaps a good day to spend in the kitchen – and hope the weekend turns out better!