This was the week after 2 weekends of storms and MANY days of rain, parts of the garden were submerged (we went for a row around the flood waters!) but finished up in
Aberystwyth, with friends, watching countless murmurations of starlings fly under the pier in winds we could hardly stand up!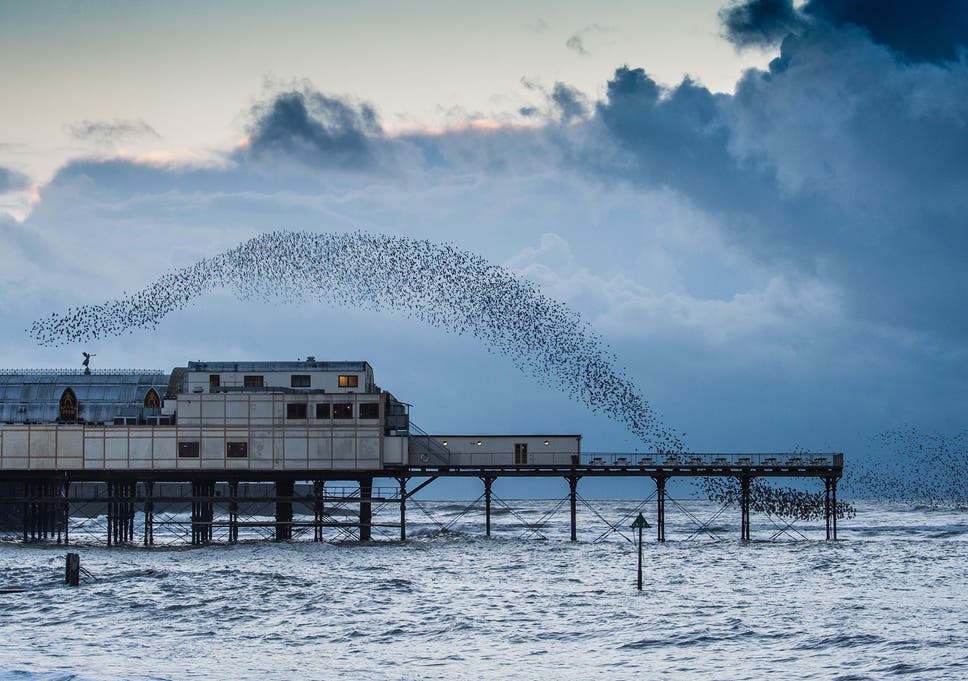 Hopefully, we can now look forward to some better weather and beginning to think of what vegetables to plant this year and some new bushes/flowers to put in.  The wind took away one of my favourite trees – but has opened up a whole new area – out of every cloud, a silver lining!
Also, coming up this week is Shrove Tuesday, pancake day – perfect vehicles for Cooking for one as you can make a batch, divide individually with greaseproof paper and freeze. There are many varieties of pancakes and each part of the world has its own variety from French Crepes to Russian blinis to Jewish latke to American buttermilk – and all can be sweet or savoury.  I (of course!) make Scotch pancakes (drop scones for the Sassenachs of you) – and I love the thought that my mum made them for me ; I made them for my children and my son, Jamie, makes them for his children. (If you can be bothered to scroll through 105 posts, my third ever post of 2 years ago gives you the recipe). Today, though, I am going to give you a new one – Dutch Baby Pancakes.This large, lovely pancake I think of as a cross between a crepe and a Yorkshire pudding. An unleavened, thin batter is poured into a piping hot, generously oiled pan and then placed into the oven instead of being cooked on the stove. The edges of the batter puff up, becoming crispy and golden while the middle remains paler and slightly chewy.
3

eggs

220ml milk

2 tbsp of sugar

1 pinch of

salt

1/2 tsp vanilla extract (if making sweet)

90g of plain flour

2 tbsp of

vegetable oil
Heat oven to 200°C/gas mark 6. Place a 30cm cast iron or heavy, oven-proof frying pan into the oven to heat. In a jug, whisk together the eggs, milk, sugar, salt and vanilla. Add the flour and whisk again until quite smooth (some lumps may still remain)
Put the oil into the hot frying pan, tilting and swirling so that the whole base and edges of the pan are coated. Pour the batter into the frying pan and immediately place into the oven. Bake for 25-30 minutes, when the edges should be puffed and golden.
It's easy to load the toppings on here – if you're stuck for ideas just think of your usual crepe fillings : jams, nut butter, chocolate chips, lemon and sugar, maple syrup of fresh fruit. I personally like to shower the pancake in icing sugar, squeeze ion some lemon juice and cut into wedges to serve.
Of for a savoury version – sprinkle some Parmesan over the pancake before serving with crème fraiche, smoked salmon, baby greens and lemon wedges.
The batter can be made 2 days ahead. Put into a jar and chill – shake before cooking. So you CAN have it all – sweet one day, savoury another!