Tonight at 2.00am in the UK, British Summertime begins and in two days time on the 29th in England, groups of 6 can once more meet outdoors for the first time in FOREVER! Vaccinations are steaming ahead and levels of new infections of Covid are going down. Spring is springing as I write and a mini heatwave expected next weekend for Easter. Truly, lights at the end of a long winter's tunnel! As the weeks go by, we will be able to meet up with friends, go to a pub, go out to dinner (even though if you've been following these blogs I know you will have been eating well!), and enjoy the beginnings of normality.
The Husband and I have been on a bit of a health kick recently and it's been a challenge to cook low fat/low calorie meals which satisfy but still deliver flavoursome kicks. The one below is probably one of our favourites – and I've even managed to make a chocolate mousse with no (added) sugar or cream!
CHINESE PORK PATTIES – this makes enough for patties for 2 (or one hungry person!) Either have some more tomorrow as they are really delicious or freeze any remaining.
1/2 225g tinned whole water chestnuts in water, drained
2500g lean pork mince (5% fat)
6 spring onions, 2 finely diced and 4 thickly sliced
1/2 tsp grated root ginger
1/2 tsp Chinese 5 spice
2 tsp olive oil
60g mushrooms, halved
100g pak choi, chopped
1/2 red chilli, finely diced (deseeded if you prefer)
200g fresh egg noodles
2 tbsp soy sauce
2 1/2 tbsp oyster sauce
Finely chop half the water chestnuts; put them in a bowl with the mince, diced spring onions, ginger and Chinese 5 spice. Season; combine with your fingers. Divide into 12 portions; form each into a patty.
Heat 1 teaspoon of oil in a nonstick frying pan over a medium heat. Add half the patties, cook for 4 minutes on each side or until cooked through. Remove, cover and keep warm while you cook the rest in another teaspoon of oil.
Meanwhile, heat 1 teaspoon oil in a wok. Add the mushrooms; fry for a few minutes. Add the pak choi, sliced spring onions and chilli and stir-fry over a high heat for 4-5 minutes.
Add the noodles and the rest of the water chestnuts, sliced horizontally; toss for 1-2 minutes. Stir in the sauces; toss. Pile on to a plate and top with the pork patties.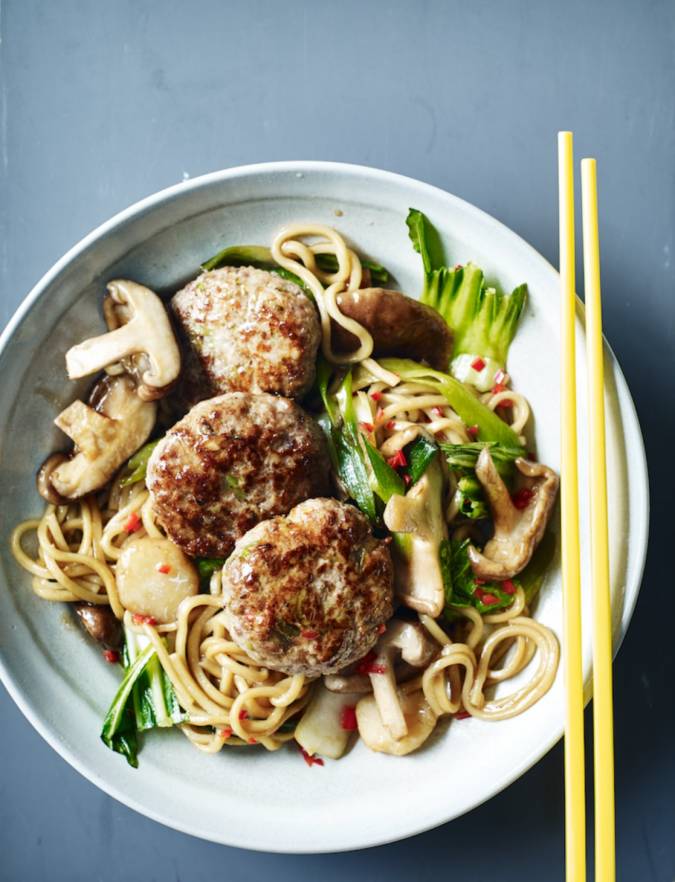 CHOCOLATE MOUSSE
60g dark chocolate 2 eggs
Melt the chocolate. Separate the eggs. Whisk the whites till firm. Whisk the yolks into the chocolate. Add a spoonful of whipped egg white to the mix to loosen the mixture before folding in the rest, being careful not to mix too long and lose the air. Pop in the fridge till wanted.
This is enough for two – as you can see it would be easy to halve (30g chocolate and 1 egg) but why would you want to?